IFA Berlin 2022 | IFA Global Markets
2022-09-02
~
2022-09-06
Berlin, Germany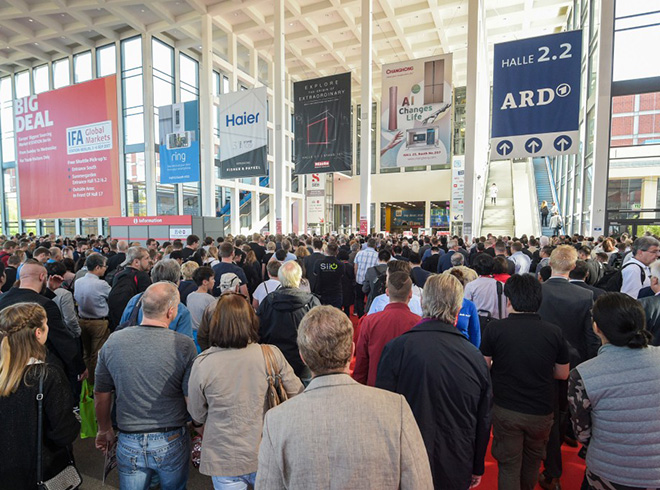 IFA is the world's leading trade show and innovation powerhouse for consumer electronics, home appliances and other applications of technology and software. The show is a premium platform for building connections with trading partners and presents the latest innovations to consumers and the media. IFA 2021 will take place on the Berlin Exhibition Grounds (ExpoCenter City) from 3 to 7 September 2021. For five days at the exhibition grounds at Messe Berlin, IFA will showcase the most innovative technology and connect key decision makers through matchmaking, high quality content, and networking. IFA 2020 will not only host more innovation and product launches than any previous event, it also will present more digital lifestyle products in one place than any other show worldwide.

Only IFA offers such an influential expo in Europe, attracting the attention of international trade visitors each year from more than 100 countries. The attendance of more than 240,000 visitors in the last event demonstrated that it is a key driving force for both brands and retailers. With more than half of all trade visitors coming from abroad, IFA Berlin provided a huge boost for both manufacturers and retailers. In the run-up to the industry's most important sales season, the high order volumes seen in Berlin point to a strong and positive end-of-year business. IFA 2019 operated at full capacity, with 1,900 exhibitors showing their latest products and services on 160,000 square meters of fully booked show floor at Messe Berlin.

Each year IFA showcases numerous innovations and product launches. The volume of media coverage around the world allows exhibitors to create business opportunities, secure press coverage, and generate buzz in the global marketplace. The range of global brands will inspire 5,800 international journalists coming from more than 70 countries. IFA's Global Broadcast Center played host to broadcasters from all around the world, including news agencies such as AP and Reuters, public broadcasters from the EBU and commercial broadcasters partnering through ENEX. Among the broadcasters reporting from IFA were CCTV from China, Al Jazeera from the United Arab Emirates, Nine Network from Australia, 01net TV, LCI, BFM TV and OUATCH.tv from France, Eurosport, the BBC and BeIn Sport from the UK, RAI from Italy, NHK from Japan, YTN and KBS from South Korea, IBA International from Israel, TRT from Turkey and NDTV from India as well as US broadcasters CNBC / NBC and CNN.

IFA Global Markets, a core event of IFA 2020, is IFA's international sourcing platform for OEMs (original equipment manufacturers), ODMs (original design manufacturers), suppliers, component manufacturers and yet-to-be-discovered brands from all over the world. The growing B2B segment of OEM / ODM manufacturers has an exclusive new home to deliver supply chain success. With the participation of knowledgeable buyers and senior procurement executives in Consumer Electronics, Consumer IT and Home Appliances, the event boasts a comprehensive range of products, inspiration and insider knowledge.
Date:

September 02, 2022 ~ September 06, 2022

Address:

Messedamm 22, Berlin, Germany

Venue:

Messegelände Berlin ExpoCenter City

Organizer:

Messe Berlin GmbH