2022 NECA Convention and Trade Show
2022-10-15
~
2022-10-18
Austin, United States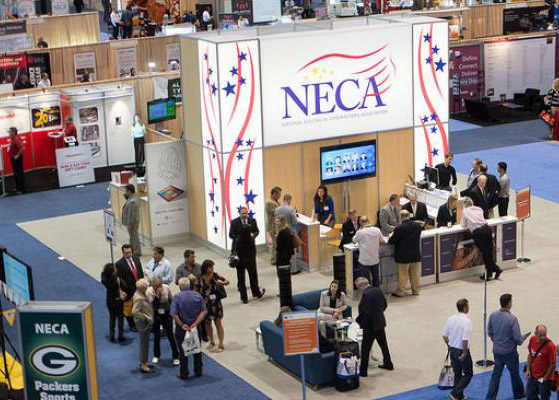 Be a part of the #1 event in the electrical construction industry. The National Electrical Contractors Association (NECA) is the voice of the $130 billion electrical construction industry that brings power, light, and communication technology to buildings and communities across the United States. NECA is the voice of the electrical construction industry. Electrical contractors count on NECA to deliver the resources that help them make better business decisions, provide excellent customer service, and take advantage of innovative technology. The NECA Show is the annual forum where thousands of electrical professionals meet to discover the latest solutions for improved efficiencies and profits. This is the place they come to learn about new services to offer their clients.

NECA contractors set industry standards for traditional and integrated electrical systems and lead the industry in the practical application of new technologies. NECA contractors strive to be solution-providers for their customers, and their industry expertise benefits everyone working on an electrical construction project. The NECA Show is labeled "The Show for Those Who Power the World" for good reason, electrical construction professionals attend from across the globe. NECA presents the largest and strongest annual electrical construction event in North America. The three day trade show is supported by the industry's most comprehensive education program including pre-convention workshops, management education, and technical workshops.

The NECA Show creates the right environment for serious conversations with customers and prospects. Thousands of electrical construction decision makers from across the nation and around the world: C-level executives, Project Managers, Purchasing Agents, Supervisors, Foreman, Safety Directors, Estimators, Inspectors, Apprentices, Journeymen, and Distributors. Close to 300 exhibitors participate to showcase thousands of products & solutions to electrical contractors. Meet with highly qualified prospects in a professional B2B setting during NECA show and track your leads for a better ROI on your exhibiting experience. The NECA Show is open to the entire industry and it is still the most important event in the electrical construction industry. It is held in conjunction with the NECA Convention, which is primarily for NECA member firms.

Date:

October 15, 2022 ~ October 18, 2022

Address:

500 E Cesar Chavez St, Austin, United States

Venue:

Austin Convention Center

Organizer:

National Electrical Contractors Association (NECA)