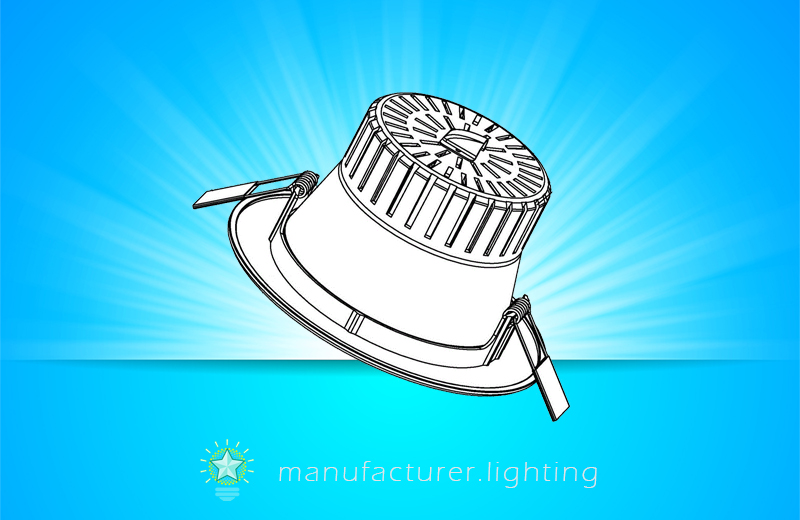 Downlights are luminaires that are mounted in a hollow opening within a ceiling to deliver inconspicuous illumination that appears to shine from a hole in the ceiling. Downlights emit a controlled beam of light from a compact, architecturally integrated aperture, typically 4"-8" diameter. Downlight distributions render form and texture superior to many linear sources. Downlights may be used to provide wall wash, normal downlight or highlight a targeted area. Recessed downlight luminaires are extremely popularly accepted for their unobstructive, hidden nature within a ceiling and the versatility delivered by the various types of downlights available.

Downlights are typically installed in a plenum or similar volume on top of a ceiling. The downlight frequently includes a housing mounted in the ceiling together with lighting module removably attachable to the housing. The spring clips (on both sides) need to clinch on the ceiling to maintain the lighting fixture. The lighting module generally consists of a light source, such as one or more light-emitting diodes (LEDs), compact fluorescent lamps (CFLs), high-intensity discharge (HID) lamps, or incandescent lamps. As the interest in these luminaires has grown, improvements have been constantly made to improve the operating efficiency and lighting characteristics. Incandescent lamps or bulbs are significantly less efficient than light emitting diodes (LEDs). Typically, the efficiency is on the order of 50 or more lumens per watt. Since incandescent bulbs operate hot regardless, they are not thermally bothered by the can being a trap for hot air. LEDs are more efficient than fluorescent lights and feature a longer life than HID, fluorescent or incandescent lights. For example, LEDs may have a lifespan of 50,000 hours prior to decrease to 70% light output. LED downlights dramatically cut down energy consumption based on relatively low wattage, have a fairly longer life (e.g., 30,000 hours vs. 2,000-5,000 hours for incandescent lamps). Furthermore, LEDs are dimmable without changing color or efficacy, as opposed to incandescent lamps. Whereas fluorescent lamps decrease efficacy as they dim, an LED is dimmable to 0%.

There are various types of LED downlight fixtures available on the market. LED downlights are extremely popular for multiple factors including aesthetics, options available for lighting arrangements, as well as amount of light output. Recessed can downlights typically accommodate incandescent light bulbs of various sizes (which include A19 (A60), GU10, MR16, PAR20/30/38, PAR16, R16, R20, etc., where the numerical designation signifies the diameter of the bulb and the letter to the bulb type or shape). These bulbs all have varied overall dimensions (i.e., length, width, and diameter), and have different light-distribution capabilities. LED downlights include mechanisms to adapt the vertical position of the bulb socket. Face plates cover the bottom of the fixture and present a decorative finish that fits flush with the ceiling. Additionally, the face plate may may include a recessed reflector which channels and distributes the light. Because there are a wide variety of different LED light bulbs and finishes, there are a very large selection of trim rings and optics combinations, along with the a variety of spacers that accommodate the bulbs. Ceiling-mounted recessed downlight fixtures comprise a frame-in kit with means for fixing the frame to structural supports of the ceiling. For installation, the frame of the light fixture may come with holes or brackets whereby fasteners are positioned to attach the fixture to the supports.

An LED downlight is constructed with impact-resistant aluminum alloy housing for efficient heat dissipation, frosted glass lens or PC (polycarbonate) diffuser to generate a uniform light distribution that minimizes glare and keeps moisture away from the electronic components. It is also integrated with a low profile trim to accommodate most ceilings with its flush mounting style and aesthetic appeal. Some designs have directional trim pivots and turns, making it possible to aim the light downward on sloped ceilings, or direct it onto a wall or artwork that you want to highlight. Adjustable downlights that take advantage of twist and turn design allow for fine adjustment and gimbal position. The rotation and adjustable tilt in both directions makes them well suited for sloped ceilings and wall wash. With a rotatable eyeball that also is directional you can easily focus the light in any direction you desire.

The SMD or COB LED has a very high color rendering index (CRI), the higher the CRI, the more accurate you will observe the genuine color of objects it illuminates, which can present the true natural colors of the lighting object, and that is essentially extremely critical for showcase lighting. With a high CRI over 80, this light will produce a pleasant and inviting ambiance for your living or working space. Light up your life with colors that are true and natural. The drivers for LED downlights can be external, integral, or driver-on-board (DOB) type and available in a wide range of input voltages. The dimmable LED driver is compatible with most leading and trailing edge dimmers. A support system is oftentimes employed to suspend a recessed lighting fixture assembly between adjacent supports. Torsion springs and retention clips ensure fast and secure installation. It can be easily installed without resorting to any tools.

LED downlight comes in various color temperatures for new construction or retrofit in both residential and commercial lighting. The soft white, warm color (2700-3000 kelvin) delivers soft ambient light, which creates great look inside the home, offering a relaxing warm radiance full glow ideal for living rooms, dining rooms and recreation rooms. The daylight, white color (6000 kelvin) gives off a bright quality light perfect for reading, studying, working and detail oriented activities.