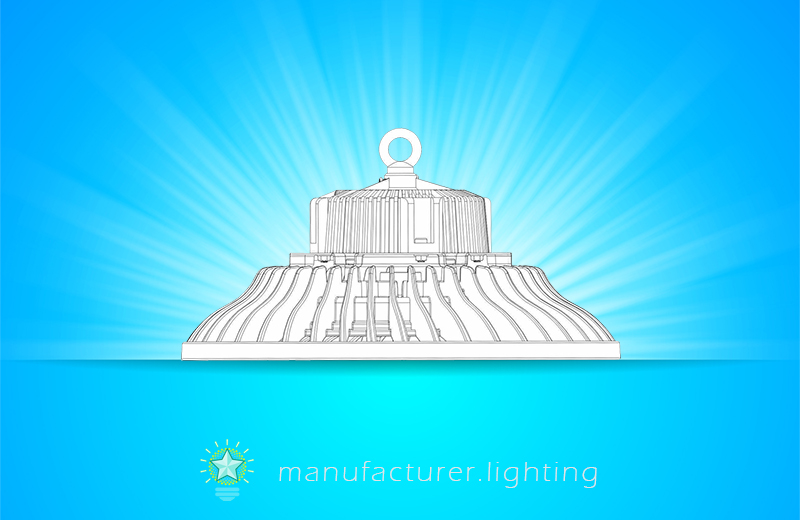 A high bay luminaire is a lighting device that is usually designed for industrial locations high above floor or work level. Industrial or commercial lighting can often be classified as being high bay or low bay, determined by a nominal height of the fixture above the floor of the space being illuminated.
High bay lights
are suitable for applications with spacing-to-mounting height ratios of anywhere up to 1.0 or the roof trusses or ceiling height is higher than approximately 7.6 meters (25 feet) above the floor.
LED high bay lights
are surface or pendant mounted, depending on the structure and openness of the area. These luminaires use reflectors and refractors to generate luminous intensity distributions that can vary from narrow to wide, based on the application and the requirement for vertical illuminance.
LED high bay lighting
is an energy efficient solution to unique high-bay environments which include warehouses, factories, gymnasiums, workshops, plants, supermarkets, distribution centers, sports fields, squares, public areas, airport halls, and construction fields. The SMD or COB LED light source from top brands, including CREE, Bridgelux, Osram, Sumsung, Nichia, Philips, and Epistar, offers low light decay, high lighting efficiency, high color rendering index (CRI), stable light color, no glare and more favorable visual health. With COB (Chip on Board) technology, an array of LED devices are mounted directly onto substrate. Chip-on-Board technology makes it possible for a considerably higher packing density than surface mount technology. This contributes to higher intensity and greater uniformity for the user. As light is accordingly emitted from a single uniform surface, a natural lighting environment of even brightness in close proximity to that created by surface emission can be accomplished. Advanced light dispersion, and heat sinking technology create optimal beam angles, lower glare and high target efficiency. Multiple beam angle options (30°/60°/90°/100°/120°) are available to meet various applications based on lux requirements on the floor. For example, the 100°/120°high bay lights produce a wide light distribution to cover large areas of factory or warehouse floors, which cuts down the number of luminaires needed across the application. While the 30°/60°/90°lights can be added to narrow the beam angle for a more targeted distribution in aisles or corridors.
Having a highly efficient thermal management system also ensures the 50,000 hour life is achievable. The cold-forged aluminum heat sink with anodized surface treatment further increase the cooling area for improved heat dissipation. The larger the heat sink, the larger the temperature drop between the LED junction and the surface of the heat sink fins. In a number of designs, heat pipes and active cooling is employed to reduce either the temperature drop or increase the convective cooling to ensure that a smaller heat sink volume can be used. High efficiency and high quality constant current drivers, not just ensure the product stability, but also significantly save the power consumption. These drivers accept a wide input voltage range of 100-277 Volts AC. Dimming drivers provide adjustable light levels that take full advantage of energy savings while providing the exact amount of light level necessary for the task. Most LED bay lights utilize polycarbonate lens that is IP65 rated to make it fully shielded from dust and water jets. The high bay housing typically features black powder coat finish for corrosion resistance and heat transfer. Some products employ occupancy sensors which leverage the high bay's instant-on and instant-off feature to maximize energy savings and enhance ROI. Other industrial lighting sources such as HPS (high pressure sodium) and MH (metal halide) lamps do not offer instant-on capability.